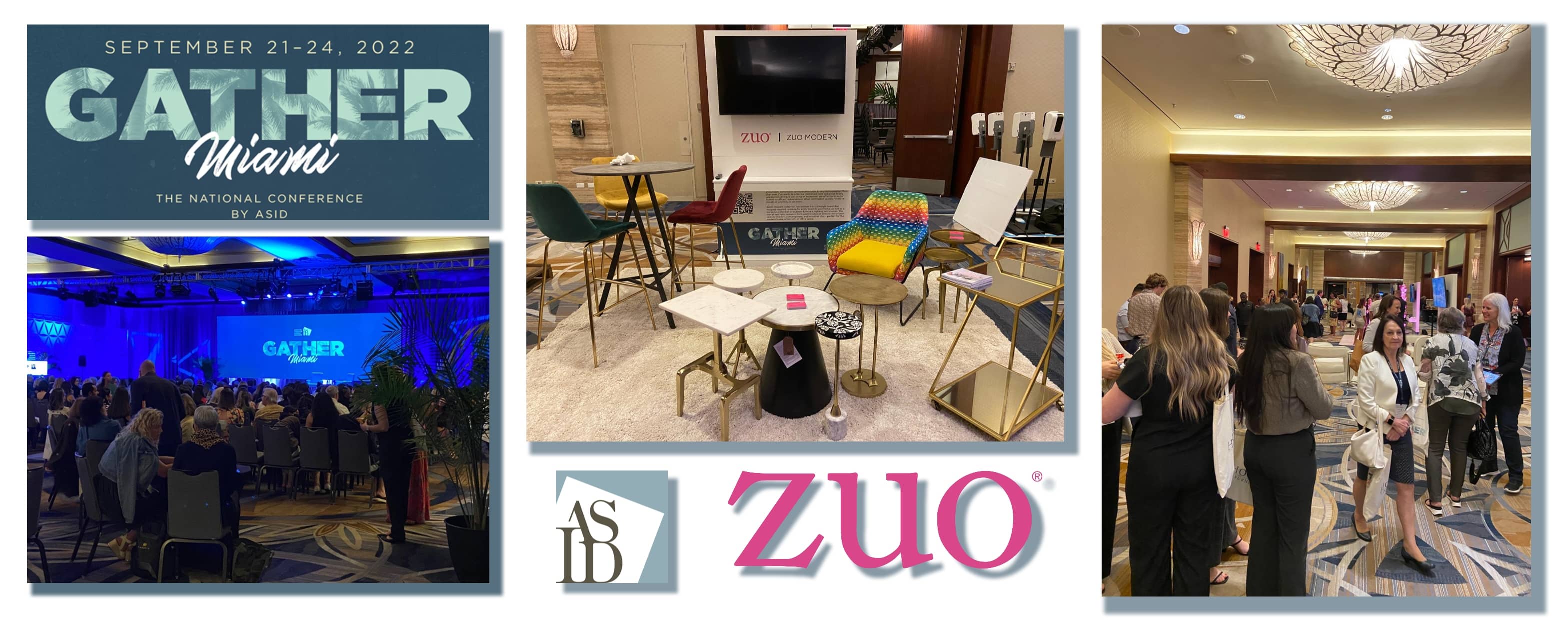 Gather - A National Conference by American Society of Interior Designers (ASID), kicked off Wednesday, Sept 21 at the Intercontinental Miami. With three days filled with programming, education, and design focused displays from sponsoring brands.
Gather 2022, is the inaugural conference event created as an opportunity for industry engagement where peer to peer learning and connection helps to strengthen interior designer's business and practice.
Kerrie Kelly, Kerrie Kelly Design Lab, Sacramento, CA - FASID, Past Chair | ASID's National Board of Directors shared, "It has been an incredible experience to have our professional members, students, chapters and Industry Partners - face to face again. Creating the opportunity to network and forge new relationships is at the core of our organization's values and we are incredibly proud with how this event has brought our design community back together again."
One of major draws for attending Gather was the sponsor displays that were created by ASID industry partner brands. From indoor and outdoor furniture to plumbing, and technology solutions - these sponsoring brands showcased new products and creative innovations to the delight of a national interior designer audience.
As one of their top brand sponsors, Zuo focused their display on highlighting residential and hospitality products with a collection of stylishly modern home accents, bar tables and bar chairs. The fan favorite from their booth showcased a fun Rainbow Lips Patterned Textile on an iconic mid-century design from ZUO's new licensing collaboration with mosaics designer Allison Eden.
Jamie Stringham, Interior Dynamics, Las Vegas, NV commented, "This has been an amazing event. From the general sessions, to the smaller group networking meetings - I have enjoyed this year's Gather event immensely. I especially liked how the sponsors displayed their products and gave our design businesses new resources".
Gather's conference content was designed to offer a slightly different scope than ASID's Presidents Forum or Leadership Conference. To deliver a variety of educational programming by legendary design experts and renowned guest speakers - who are passionate about their work and offered fresh ideas and insights on the future of design.
"The Gather event seemed more open, designer focused and inclusive. It gave us a new and fun way to network while we learned from the wider design community," shared Ariel Cox, Nuance Interiors Dallas, Texas.
Gather also brought together hundreds of design students from schools across the country who had the chance for mentorship from professional designers focused on luxury interiors, sustainable design, healthcare and aging in place.
Joan Kaufman, Interior Planning & Design, Inc. Napervillie, IL, Past Board Member & Advocate commented, "I am so happy to see ASID holding larger conferences again. Especially since this is one of the only places to see our community of past chapter board members, and ASID National Leadership. This event is also critical for design students to connect and learn from professional experts outside of their local communities."
About ASID Gather
GATHER 2022, the National Conference by the American Society of Interior Designers (ASID), was held September 21–24, 2022, in Miami, Florida. The conference featured satellite events throughout the week at venues around the city while its attendees come from within the interior design community, at every career stage to experience, network and expand their perspective on design.