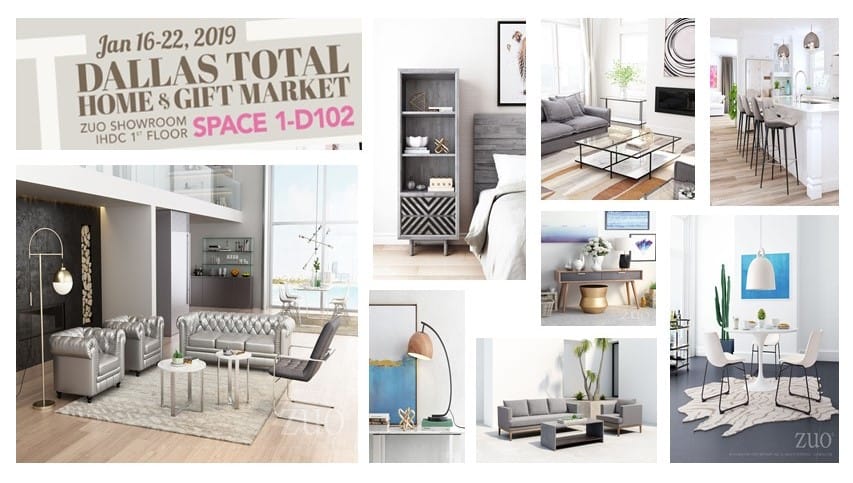 ZUO's Marketing Coordinator Serena Martin has been working with the team at Dallas Market Center to create an exciting list of programming and educational seminars + panel discussions for Winter 2019. Partnering with brands, designers and influencers to deliver a variety of panel discussions for one an all.
Latino influence on the US retail Market
ZUO & Platin America Present a Dallas Market Panel Discussion on the "Latino influence on the US retail Market". Experts Panelists will cover how the US Market is influenced from Buying, Designing and Selling to Sourcing and Merchandising, plus navigating Shipping & Logistics. Dallas Market - Interior Home & Design Center Space D404

Moderated by ZUO VP of Sales – Hector Hernandez

Panelists:
- Product Dev & Manufacturing: ZUO Décor Director: Andrea Guardiola
- Retailer & Designer: Fernando Rodriguez ~ Stewart Rodriguez Home Puerto Rico
- Interior Designer: Norma Lavin ~ Feizy Rugs / Lavin Interiors
- Interior Designer: Veronica Chapa~Veronica Chapa Interiors

Hector "Diablo" Hernandez joined ZUO as Vice President of Sales, Latin America in 2017 and has worked to increase business in Mexico, Central and South American Markets as brand ambassador leading over 10 independent sales reps.

Hector's background includes nearly three decades as a prominent member of the furniture industry; and a literal Hall of Fame of previous employers Lea industries, Clayton Marcus, Pennsylvania House, American Drew, and Barclay. Within Latin American Furniture manufactures and highly recognized chain retailers Hector has risen through the ranks from sales representatives increasing sales for brands Lifestyle, Ashley, Pulaski, Howard Miller, LS solutions, and ACME within South America. To becoming an accomplished furniture buyer, product developer and then Commercial Director with Azcue Muebles & Overseas Product Developer DICO. Knowing the business of importing, exporting, sales, buying and retail mark from chain stores to boutiques throughout Latin America.

Based in Mexico City, Hector spends much of this time traveling to oversee and the ZUO Latin sales force. Speaking with independent retailers, designers, big or small hospitality clients - to evaluate each customer's unique market while looking at sales to strategically developing an individual plan for success. Additionally, Hector and his Latin American Sales team help new dealers to embrace technology and share the tools for success with concern to ecommerce, exporting and sourcing.
Passive Income For Designers: How To Develop 24/7 Income Producing Assets You Own!


Sarah Daniele Co-founder of Mydoma Studio, Designer Software Company interviews Leslie Carothers, co-owner at Savour Partnership where they discuss the importance of creating and owning passive income streams for your interior design business. Further discussion on how to adapt, change and thrive in a changing furnishing and design industry will be covered.

About Leslie & The Kaleidoscope Partnership

Leslie Carothers is the CEO of The Kaleidoscope Partnership, the country's premier digital marketing agency for the interior design and home furnishings industry, and co-owner/CEO of Savour Partnership, (www.savourpartnership.com) which produces beautifully designed digital publications and magazines of all kinds that help produce online income, 24/7, for any business that has a luxury online presence.

She runs a Facebook Group for interior designers, #DesignWealth where she helps interior designers learn how to design wealth into their business models with passive income and digital marketing strategies.

She serves as a volunteer on the board of directors of the Bienenstock Furniture Library and in 2018, was named one of Home Furnishing News magazine's Top 40 Most Inspiring Women In Home.

Mydoma Studio

Mydoma Studio is client and project management for interior designers. Mydoma Studio offers interior design professionals the specific tools they need to grow their businesses. These tools include file, product and vendor management. Time tracking, Invoice, purchase order and credit card payments. The ability to create design service packages and sell them online! A brandable workspace to collaborate with clients and team members - and so much more!
We at Mydoma Studio build software to empower designers to have both the tools and confidence to do what they love and be profitable. Whether you're a solopreneur or a team of 10+ Mydoma studio is your secret weapon to managing and growing your interior design business. Mydoma Studio is built for designers by designers! Check out link to learn more.
Free 2 Day BOLD Branding Seminar: "Secrets Only Top Luxury Designers Know!"
Julia Molloy (Founder of BOLD – Business of Luxury Interiors and BOLD Summit) leading interior design expert, branding authority and business coach as she shares Secrets Only Top Luxury Designers Know!

90 Min Seminar will provide training on how to increase your interior design business, while attracting more ideal clients, and the tools for navigating and upselling your services. Learn roadmaps to developing your brand, while creating your ideal client experience and how to receive more high paying jobs.

"Designers are given a gift, with the ability to see into people, understanding their needs, to envision possibilities while miraculously translating this vision into improving an environment. My gift is the ability to help motivate, educate and teach you how to powerfully tap into your potential. I believe that when you take your business to the next level, it has a ripple effect on your whole life." – Julia Molloy
BOLD Branding Day 1
Jan 19 from 2-4pm~ 90 Min Seminar + 20 Min Q & A
BOLD Branding Day 2
Jan 20, 2-4:00 pm ~ One on One with Julia Molloy
Sign up for a FREE 20 Min Sessions
office@boldsummit.com
www.JuliaMolloy.com