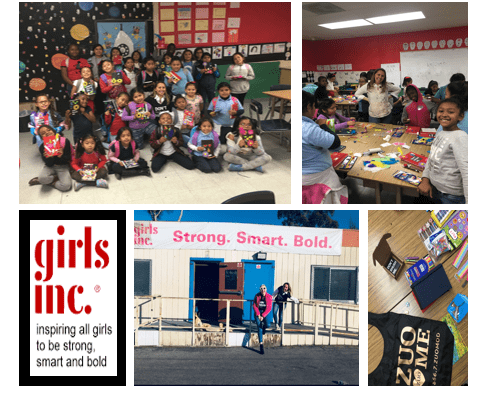 ZUO Décor's Director Andrea Guardiola attended an event at Girls Inc. of Greater Los Angeles on December 4 as guest speaker whose topic focused on how elementary school girls can dream big and create their futures. The event's activities included journal writing, drawing, and sketching as a means of self-expression. Guardiola spoke with the girls about how the act of journaling and drawing to visualize their dreams and express their feelings are healthy ways of dealing with difficult situations and can lead to positive conflict resolutions.
The topic and activities were inspired by Guardiola's own design process as she designs the home decor collections for ZUO Décor. Her process includes creating one-of-a-kind designs drawn from inspiration she receives from her buying trips and travels throughout South America, India, and Asia.
Speaking with Guardiola about event she said, "When I first learned about the organization by fellow supporter and philanthropist Jessica Alexander, Don't Shush Me's founder, I was inspired by her work in the Los Angeles area to empower and encourage adolescent girls through Girls Inc. events. Having lived in the Los Angeles area for many years, I wanted to help give back to the community and support their efforts and was I was honored to be asked to speak at their December 4 partner event. My daughter Giuliana, who's 5 years old, helped me to shop for the journals, pens, stickers, glue, and other supplies to give the girls a creative outlet. I truly believe in the work Girls Inc. does across the country to motivate girls by encouraging positive body image, avoid social media pressures, and to help achieve personal and educational goals."
Jessica Alexander commented "Working with Girls Inc. of Greater Los Angeles is so rewarding. Their motto is 'Inspiring all girls to be strong, smart, and bold.' These are some of the same philosophies that I created Don't Shush Me to embody. I love that their chapter works to bring positive role models who have achieved success and can inspire young girls to believe in their own dreams. Girls Inc. of Greater Los Angeles is a perfect non-profit partner for Don't Shush Me. Bringing in Andrea and the ZUO team for this event was a dream come true!"
About Girls Inc. of LA,
Girls Inc. of Greater Los Angeles provides hundreds of girls with life-changing support and real solutions to the unique issues they face. Working with elementary and high schools in the Los Angeles area, they provide support and programming for schools in South Los Angeles, Compton, and Watts California. Additionally, they provide education enrichment programs, mentoring, and special events. You can support Girls Inc. of LA, or reach out to Girls Inc. National to learn how you can support girls in your local community.
About Don't Shush Me :
Don't Shush Me is a vibrant, inter-sectionalmovement created to amplify women's voices. Our goal is to empower women and girls to use their voices in order to promote equality, dignity, and education for all people. We are here to inspire women through self-expression, content, and coordinated events through partner organizations. Learn more at dontshushme.club. A portion of all items purchased through http://www.dontshushme.clubgoes to support Girls Inc. of Greater Los Angeles.