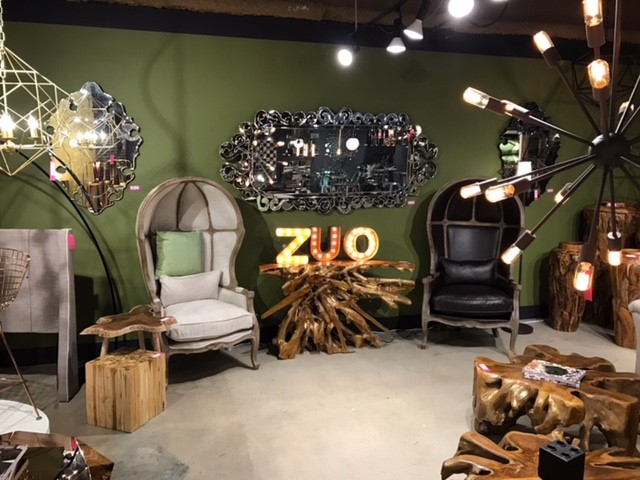 The anticipation builds as ZUO moves from the Trademart Building- where during the last 5 years ZUO primary focused on its growing Lighting Collection during the Dallas LightOvation Market.

ZUO known throughout the Dallas area for it's stunning and affordable lighting we plan on showing the Texas trade customers what else we have to offer- with regard to indoor & outdoor furniture, mirrors, accents and rugs. With our new 3,500sf home in the World Trade Center Building, 5th Floor Space 504 we will add to our continued brand exposure and give the Dallas Designers and other trade clients the ability and flexibility to shop our showroom year round- Monday through Friday 9am-5pm.
Additionally, designers will have the added pleasure of working with both our seasoned Showroom Manager Clay Kulak and Local Sales Rep Josh Caballero. Clay-having worked with ZUO as part of our Visual Team for the past 3 years and knows our entire 3000 product selection inside and out. Sales rep Josh has been with ZUO for one year and has just made 2016 ZUO Salesman of the Year! Josh's dedication and passion for his clients and the TX territory has seen more growth than any of our territories combined. This growth is in part why we decided to move to the World Trade Center to be open daily.
Visual Merchandising Director John Perez shared with Marketing department that the new look of the Dallas showroom will focus on showcasing more of the popular Modern & Era collections product lines; with our new 2017 Pure Lighting and feature an industrial-luxe style feel with gold tones and warm greys. The Visual team's plan on starting the 2017 Tradeshow season with a fresh look for our first Total Home & Gift show will entice new and existing buyers to look towards us for their projects
Luis Ruesga ZUO CEO commented "We are very excited for the new showroom design and opening in Dallas. I can't wait to see what John Perez has in store for the design as we launch our Pure 2017 Lighting and Accents collection. We are all eager to see the response on this new India artesian crafted collection from both new and existing clients. Our Marketing team has event created a schedule of events and cocktail hours throughout the year; including special discounts to invite local trade clients. This way clients can see and touch our products and talk with our TX team. From all of the ZUO Family we look forward to meeting you see you all soon!"