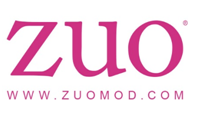 Kim Klaus joins Zuo Modern as new Creative Director for the San Leandro, CA Manufacturer. This the first time Zuo Modern has offered the role of Creative Director; as the family owned and operated business is run by CEO Luis Ruesga & COO Steve Poon. In speaking with both Luis & Steve they shared the reason behind and choosing to hire Kim.
Luis commented "Steve and I have spent the last year looking and interviewing a person to lead our design team. We needed someone who's talent and experience will not only continue to grow our company but who's vision and expertise will increase our brand awareness and evolve our overall style. Kim's experience working for large brands such as William Sonoma, RH & Sitcom gives us the confidence and excitement to see where Kim will take Zuo during 2016 & beyond."
Steve shared "In the past several years Zuo has grown in sales and into a more global brand, with divisions in 5 countries. Luis and I knew we needed someone like Kim to continue the growth and further cultivate our brand. We look forward to our upcoming trip to China next month and to seeing what Kim's vision brings to 2016."
Kim is a long time creative design professional who has held many high level positions in San Francisco based Williams-Sonoma, Inc. as their Director; in Furniture & Lighting Product Development (with Pottery Barn Kids Division); Three years as the Head Design Manager: Furniture & Upholstery Product Development, (Pottery Barn Division); and spent 5 years as the Lead Designer for Modern furniture manufacturer Sitcom, Oakland CA. Kim's extensive experience also includes excelling as an Independent Consultant and Freelance Designer for multiple companies such as Restoration Hardware.
When press interviewed Kim during LV Market she shared this on her approach to design:
"I am passionate about design, teamwork and bringing beautiful product to a global market througha businessaligned strategy. At the core of every design sits the idea that every space should work for real people, their lives — and room to dream. I am thrilled to be a part of this dynamic Zuo Team!"
Kim's role at Zuo Modern will include sharing her vision for Zuo from 2016 and beyond as she takes into context the history of our Modern Brand and expands on the future of our four collections but designing and curating new trends, colors and finishes that incorporate Zuo as a whole. Additionally, Kim will work to oversee and bring a cohesive element to the many marketing and design departments of the Zuo corporate office with concern to brand recognition, sales and production.