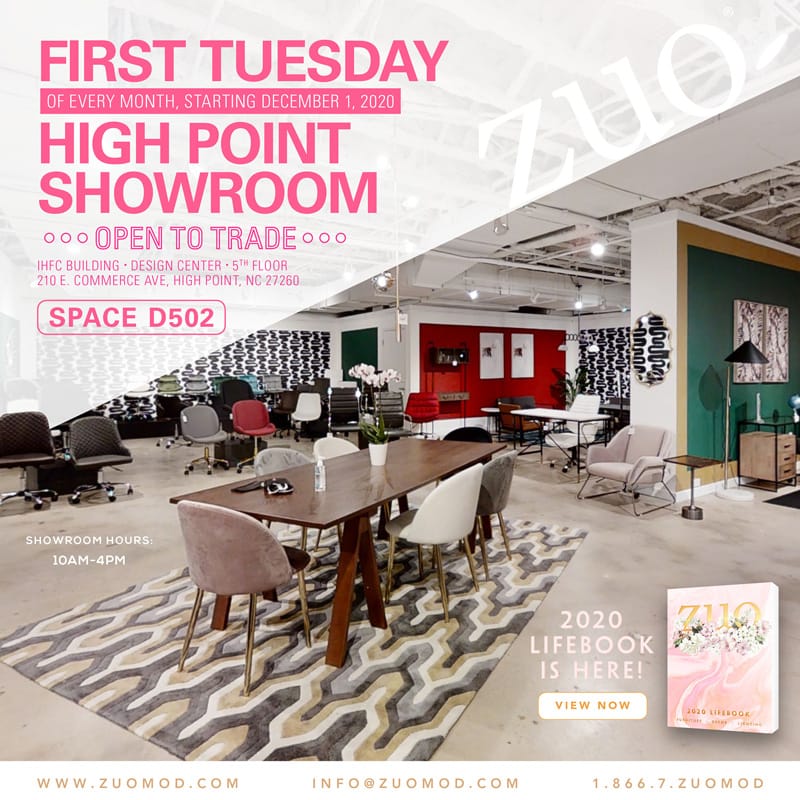 ZUO has join the effort from the high point authority, the IMC Centers and Furniture today to join the list of 100+ Showrooms open the first Tuesday of every Month starting this Tuesday December 1st from 10:00 am to 4:00 pm on addition to the already available virtual showroom that is open 24/7.
The idea behind the opening the showroom is due to the increase of demand from the interior designers to see, touch, select products for their immediate projects, adding to the continues visits from the retail stores in the area.
"Until we can all get together in big groups, the idea from Guy Ray CEO ofMan Wahis fantastic as this allow us to see our customers following all the distance protocols and show to all our customers continually our new products and developments" Said Luis Ruesga CEO of ZUO Modern.
Hoping you can join this fantastic group of Manufactures in High Point, NC this First Tuesday with the confidence that the High Point organization and Market authority put together their best effort to make this a reality for the current needs.
Not a Zuo Dealer yet? Open an account hereand place your orders today!
High Point - Virtual Showroom
Atlanta Market at AmericasMart - Virtual Showroom
Las Vegas Market - Virtual Showroom
Questions? Don't hesitate to reach out!
Tel.510-877-4087
Toll-Free 866-7-ZUOMOD (986-663)
Fax. 510-667-1012