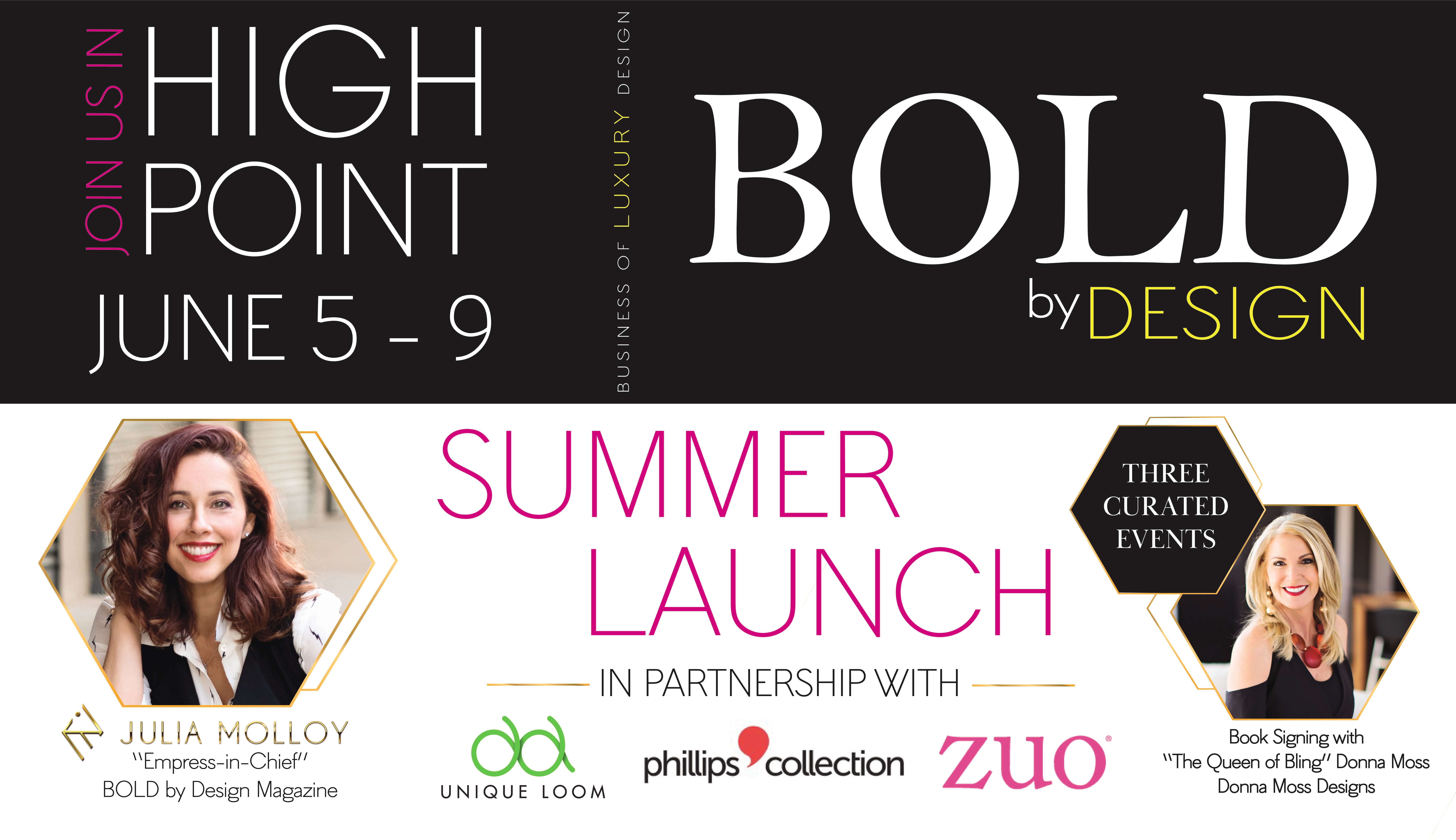 ZUO announces brand collaboration with BOLD by Design Magazine for their Summer Launch Series at the upcoming High Point Market, June 05, 2021 from 3-5pm.
The event will be held at ZUO's flagship 26,000 sf showroom in IHFC's Design Wing, Space D502 with a "BOLD Happy Hour" themed event - featuring ZUO's famous frozen margaritas, specialty BOLD Cocktails, lite bites, and drawings for ZUO product giveaways paired with exclusive BOLD swag. Added engagement to include book signing with a special meet and greet featuring famed Interior Designer and HGTV Star Donna Moss, as she offers signed copies of her new book Best of Show!
BOLD by Design Magazine's Empress-in-Chief, Julia Molloy shared; "As long as BOLD has been coming to High Point Market, we have always included ZUO Modern as the first stop on our agenda. Loving their brand's bold style and brightly colored designs, we knew that holding BOLD by Design Magazine's Summer Launch at High Point Market must include partnering with ZUO."
Further sharing that Julia and ZUO's CEO Luis Ruesga, have worked together for years - as ZUO has previously been a featured product sponsor for BOLD Summit's VIP Lounge and BOLD Cocktail Events.
ZUO's CEO Luis Ruesga commented; "We are excited to work with Julia again and to partner with her on the launch of BOLD by Design Magazine, hosting their very first event. Hearing from our buyers that June HP Market will have more attendance and that people are really looking forward to in-person events again is another sign that markets are returning to semi-normal. Personally, I can share how much we have missed holding events and the community it fosters. Partnering with BOLD will be one more reason for our family of buyers, industry, media and fellow exhibitors to join us on the first day of market."
ZUO marketing team also shared that this June High Point Market will include (+140 new products) including designs for office, bar, living, dining and outdoor. To view their entire Spring 2021 Collection and download their newest catalog click here
'BOLD Happy Hour"
June 05, 3-5pm
IHFC D502