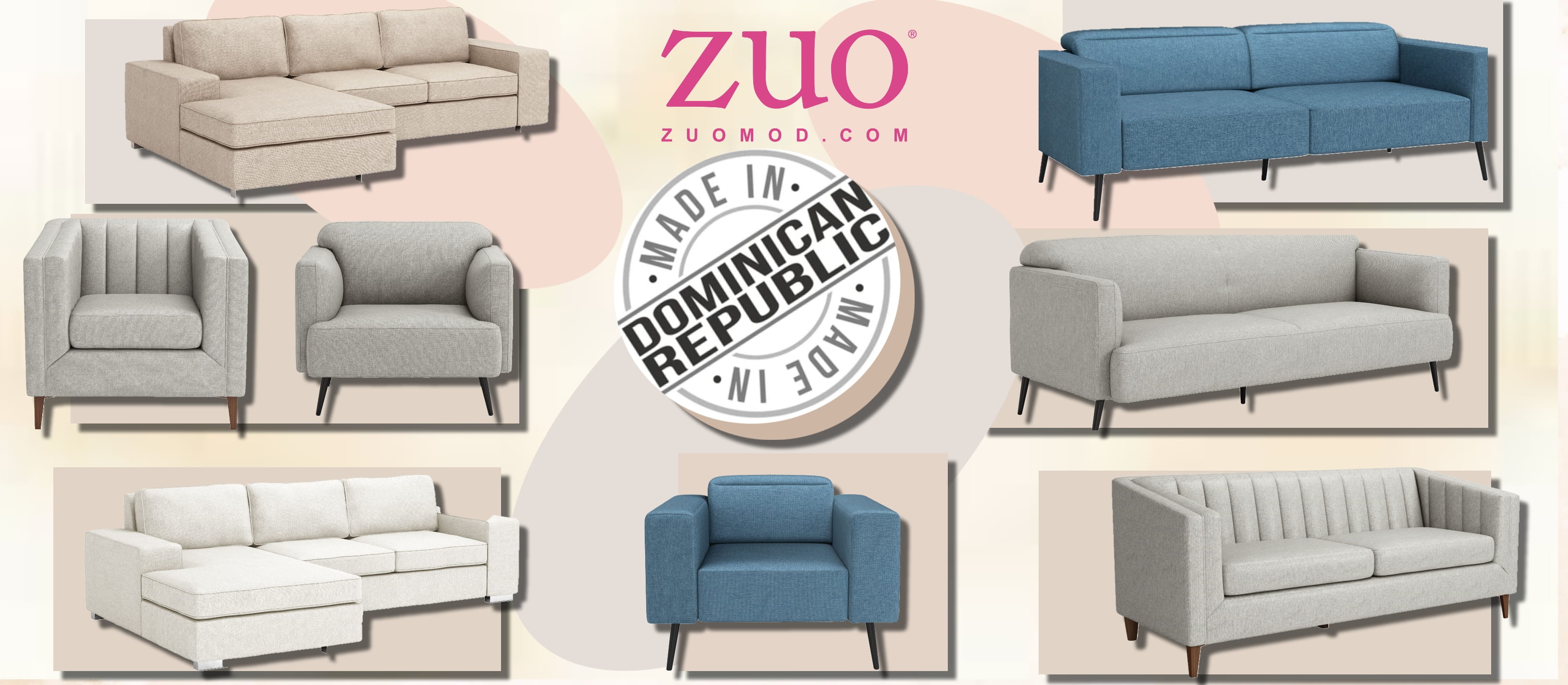 Amid the myriad of supply chain challenges facing furniture importers these days, the enormous rise in container shipping costs – especially for goods shipped from Asia – takes center stage. And the seemingly endless delays in getting those containers from an Asian port to a U.S. warehouse runs a close second.
But the folks at Zuo have developed a very creative end-run around this issue. In addition to ramping up production at its upholstery factory in Mexico, the company recently began making upholstery in the Dominican Republic.
So you've never heard of anyone making upholstery in the Dominican Republic? We hadn't either – until we got a peek at Zuo's new product launches at last month's High Point Market. The lineup included 25 sharp-looking SKUs from the new Dominican Republic factory.
Yes, the new products must still be shipped by container, but it's only a three-day trip to Zuo's Miami warehouse – versus weeks on end from Asia –- and the freight cost is less than $2,000 per container. (It's $12,000 and up from Asia.)
The Dominican lineup, which includes a variety of smaller-scaled sofas, sectionals and armchairs with contemporary and mid-century modern styling, was a clear winner in High Point. And the good news is that the line already has begun shipping!
"Our dealers loved the styling, and they loved it even more because we have it in stock at reasonable freight rates," said CEO Luis Ruesga. "I'm sure we will be expanding our offerings soon."
The Dominican factory sprang up largely because Ruesga has an old friend there who owns a mattress factory. When learned the mattress factory poured its own polyurethane foam, Ruesga immediately began talking to him about opening an upholstery factory – not to mention providing a reliable source of foam.
"He said he didn't know how to make upholstery, but I told him not to worry about that. I just needed him to sell me foam," Ruesga said.
So a deal was struck, and Zuo brought in a team of upholstery experts from its Mexico factory to get the 200,000-square-foot Dominican factory up and running.
"Our sales and production teams were very excited with how it turned out," Ruesga said of the first wave of Dominican Republic production. "There's a lot more to come."