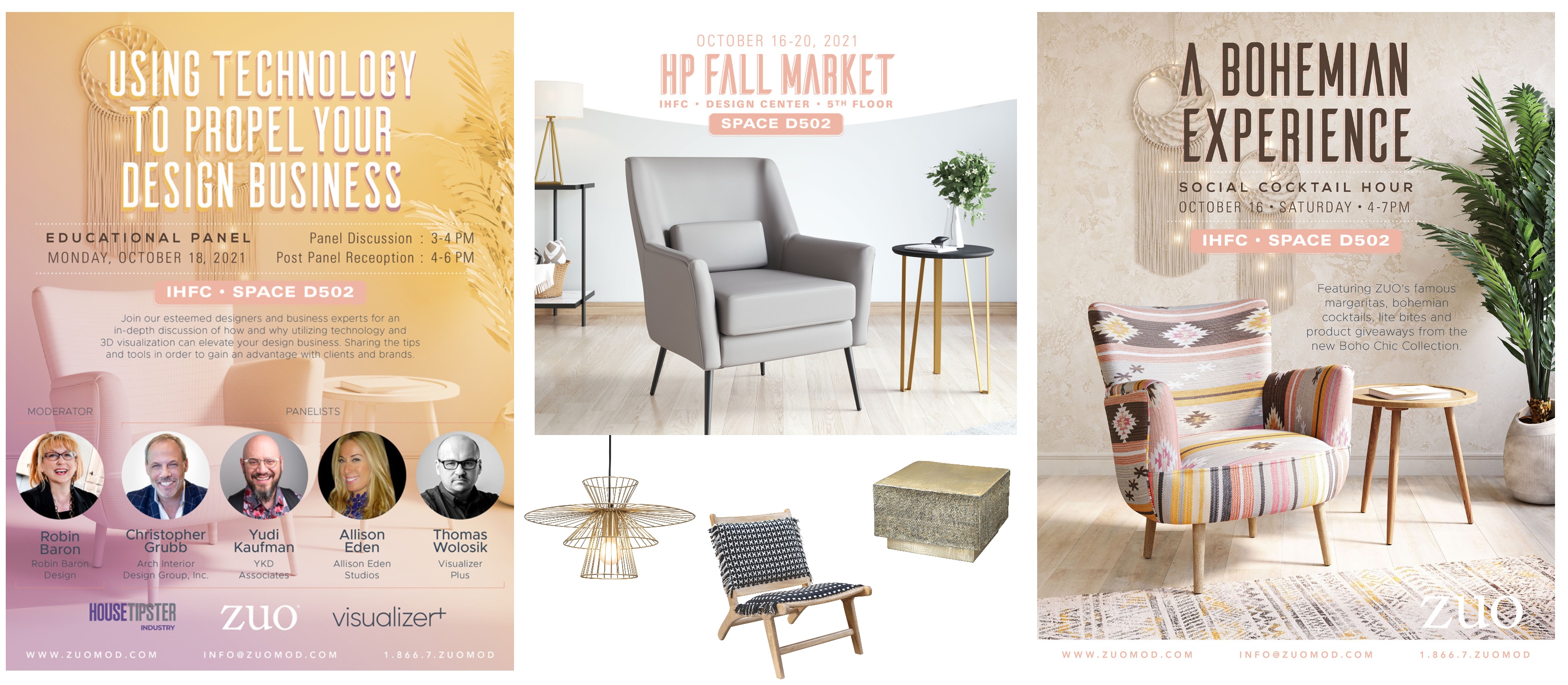 Despite a stubborn rise in Covid-19 cases, the positive signs certainly outweigh the negative ones as we head into the critical October High Point Market – one of the few furniture industry trade shows taking its normal spot on the calendar the past two years.
For one thing, there's a surprising amount of new product on tap. Given the massive supply chain woes that have made it difficult for some manufacturers to keep in-line goods in stock, we thought October product launches would be few and far between. But that doesn't appear to be the case – especially for exhibitors with bedroom, dining room and occasional furniture.
There's no question that many have cut back on the number of new products, but exhibitors believe new products remain a key showroom attraction, so they're not foregoing new designs altogether.
And the smart exhibitors (including Zuo) are making a point of having most, if not all of their new products in stock and ready to ship.
"These days, dealers always want to know what's in stock, but when they come to market, they also want to know what's new," said Luis Ruesga, CEO of Zuo. "They still want something new to freshen up their floors."
The big question mark, as usual, is market attendance. We know international attendance will be down substantially because of travel restrictions to Europe and Asia, but how many domestic retail buyers and designers will venture out? That's the proverbial $64,000 question.
"I would like nothing better than to give my showroom manager my corporate card and send her to Costco to by more supplies for the showroom," one CEO told me a few days ago. "But it's just hard to predict how many will show up."
Another sign that things are starting to return to normal is the reemergence of seminars, parties and other social events at market. Dozens of them are on the schedule, including two in Zuo's showroom, space D-502 of the International Home Furnishings Center.
On Saturday, Oct. 16 (RSVP Here), the opening day of market – Zuo will fire up its margarita machine for "A Bohemian Experience," a party to celebrate the launch of its Boho Chic collection. The event will feature several product giveaways.
On Monday, Oct. 18 (RSVP Here), a panel discussion aimed at designers starts at 3 p.m.., followed by a reception for the panelists from 4-6 p.m.
The discussion, "Using Technology to Propel Your Design Business," is in partnership with 3D technology company Visualizer Plus. Panelists are interior and product designer Christopher Grubb of Arch Interiors Design Group; business development expert Yudi Kaufman of YKD Associates; and creative director Thomas Wolosik of Visualizer Plus. The discussion will be moderated by celebrity designer and product developer Robin Baron of Robin Baron Design.