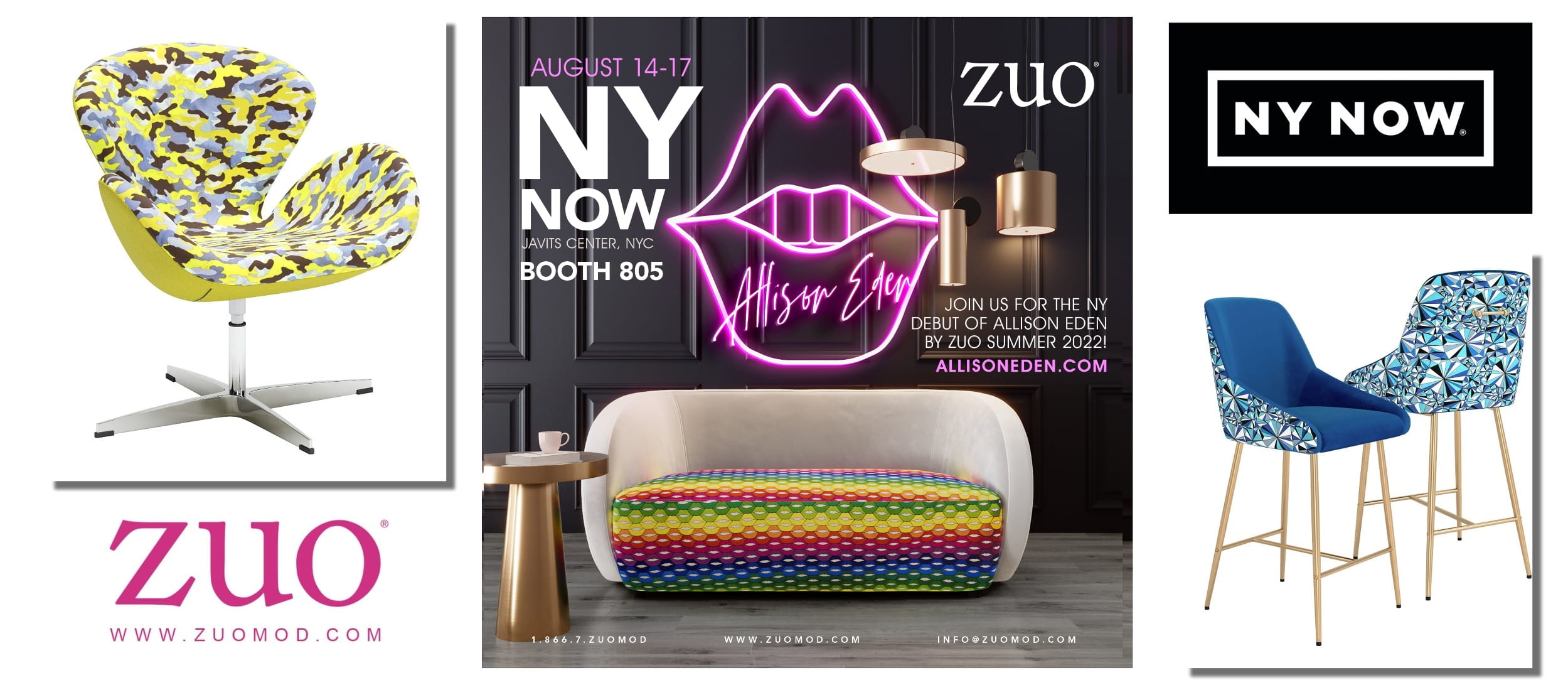 Zuo's recent collaboration with designer Allison Eden will be in the spotlight at next month's NY Now show when the company returns to the cutting-edge design show for the first time since 2017.
Zuo's signature mid-century modern furniture – including several pieces covered with Eden's mosaic-inspired fabrics – will be featured in a high-profile lounge for designers that will be located adjacent to the main show entrance.
NY Now organizers say the goal is to give designers a focal point to reconnect since the organization has not held an in-person trade show in more than two years. Plus, the event likes to highlight works by New York City natives such as Eden. (Her studio currently is in Brooklyn.)
"It gives our audience a chance to experience a fun and elevated take on classic mid-century modern upholstery with a look you won't find anywhere else," said Luis Ruesga, CEO of Zuo. "I couldn't be more excited."
NY Now will take place Aug. 14-17 at the Javits Center.
Zuo's Allison Eden collection was launched in April at the High Point Market and was an immediate success. Ruesga said buyers loved the myriad of color pops featured in the new fabrics and appreciated how well they accentuated the mid-century modern designs.
The collection is Zuo's first-ever licensed collection, as well as Eden's first-ever fabric collection. She is best known for her mosaic and glass tile designs for hospitality and celebrity clients – not to mention her holiday window displays at Bloomingdale's flagship store on 59th Street.
"I am so excited about how this collaboration with Zuo has come together. Our two brands are perfectly in sync," Eden said, noting that she has always dreamed of putting her designs on fabrics for everything from furniture to clothing to housewares.
She said finding such a creative manufacturer for her upholstery fabrics "was serendipitous to me."
Selected fabrics from her collection will be available on Booth 805 at NY Now, also will be on display in Zuo's showrooms at two other summer trade shows in Atlanta and Las Vegas. The Atlanta show takes place July 12-17, and the Las Vegas Market is slated for July 24-28.