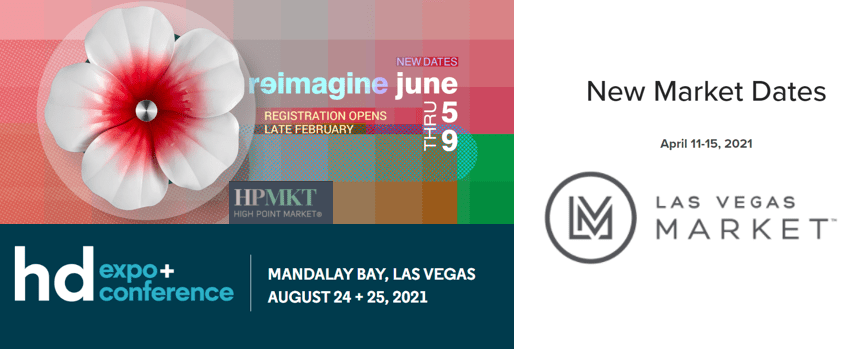 The International Market Centers and the High Point Market Authorityhave decided to change the Trade shows planned for the first half of the 2021 base on the restrictions for traveling in the western United States, recommended by Governor Sisloak's in Nevada due to the closure and stay-home new orders.
The originally planned Las Vegas Winter Market show for January 24-28 will be pushed for April 11-15 of 2021 and at the same time, pushing the Las Vegas Summer Market planned for July 25-29 now to August 22-26 but leaving the option to buyers to come any time to Las Vegas Buildings with appointment only at any time.
The Atlanta Americas Mart Winter Market will remain with their originals dates scheduled for January 12-19 of 2021.
At the same time the High Point Authority and the IMC have decided to push the High Point Spring Marketoriginally happening April 17-21 now to June 5th – 9th with opening registration starting in February, allowing the new Vaccine to probably help the attendance to the trade shows again.
As an added benefit, the summer Las Vegas Summer Market runs concurrently with HD Expo (August 24-25, at Mandalay Bay in Las Vegas) and ASD (August 22-25, at the Las Vegas Convention Center), giving buyers and exhibitors additional cross-market opportunities.
While markets keep getting affected by the COVID-19, ZUO will keep developing digital innovations to keep the communication with our customers up to date, such as Virtual Showrooms, Online Presentations, Zoom releases of new Products
Not a Zuo Dealer yet? Open an account hereand place your orders today!
Questions? Don't hesitate to reach out!
Tel.510-877-4087
Toll-Free 866-7-ZUOMOD (986-663)
Fax. 510-667-1012
High Point - Virtual Showroom
Atlanta Market at AmericasMart - Virtual Showroom
Las Vegas Market - Virtual Showroom