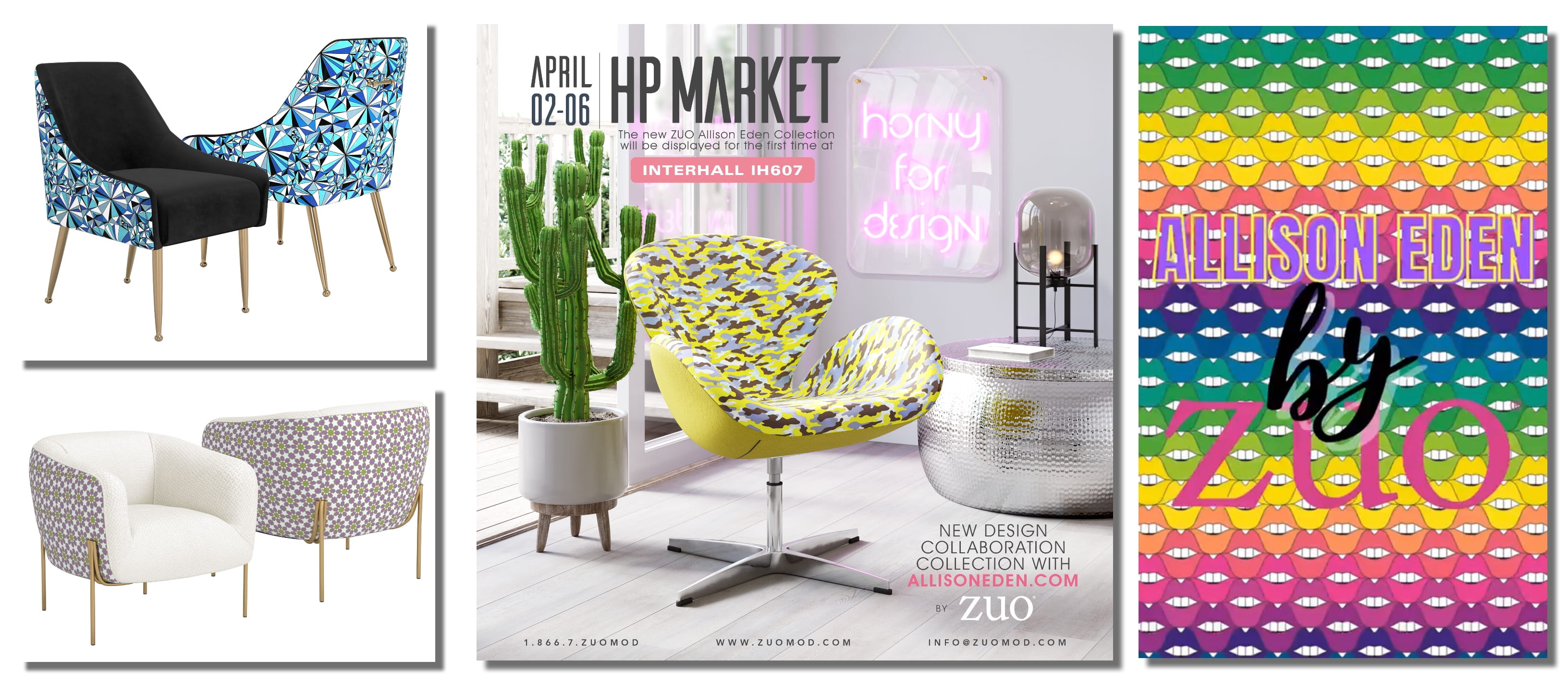 Continuing its aversion to "me too" products, Zuo has partnered with designer Allison Eden – best known for her mosaics on tile and glass – on a line of stunning upholstery fabrics that will be introduced at next month's High Point Market.
The new fabrics, which combine her colorful mosaic designs with solid leather and fabric colors, create a unique look that will give retail sales floors a pop of color many times over.
"I couldn't be more excited about this new fabric line we've developed with Allison," said Luis Ruesga, CEO of Zuo. "It gives our dealers a way to reach younger consumers with a look they won't find anywhere else."
Ruesga said the new products also should allow the company to expand its customer base with both e-commerce and traditional brick-and-mortar retailers. And who knows? They may even be suitable for hospitality furniture buyers and designers looking to create more visually appealing seating areas.
Eden's colorful fabrics will be featured on a variety of Zuo's accent chairs and sofas, which are key products that have helped drive the company's growth for many years and have helped establish Zuo as a key resource for retailers looking for individual items instead of massive collections.
And Zuo is unveiling these non-traditional fabrics in a non-traditional way – at least for Zuo. They will be shown in space 607 of Interhall, the International Home Furnishings Center's busy first-floor exhibit area that features cutting-edge designs and products that aren't likely to be found in other showrooms.
"Allison's fabrics are unlike anything we've ever had before, so they deserved to be shown separately in an exhibit area filled with great designers and great designs," said Ruesga.
But don't worry. Some of the new fabrics also will be on display in Zuo's main showroom in space 543 of the IHFC's Green Wing. That space, by the way, is a new location for Zuo, but it's only a few yards away from its former showroom. The difference is that, at more than 30,000 square feet, it's about 30 percent larger. It also features a speakeasy and a candy store – not to mention lots of other new products from factories in Mexico and the Dominican Republic.
The High Point Market takes place April 2-6, and we hope to see you there!