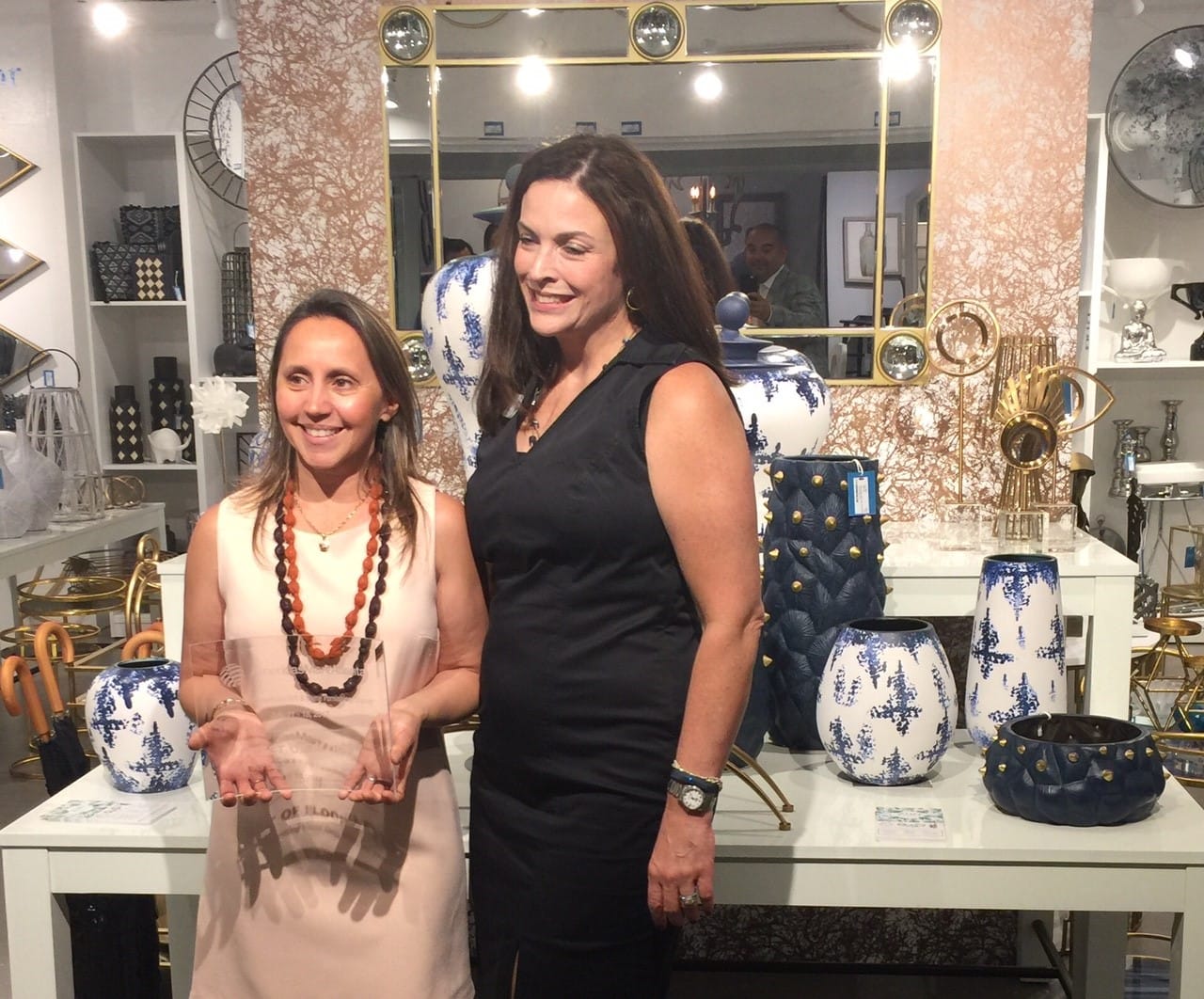 International Brand ZUO; new Décor Division win's AmericasMart "Best of Floor" Award for their debut showroom in Atlanta. This is only the third time that ZUO has won this coveted award from AmericasMart in their 12-year history and the very 1st win for the ZUO Décor division.
Director of ZUO Décor Andrea Guardiola was ecstatic when AmericasMart VP of Leasing Karen S. Greaber and team came to present the award for the debut collection and remodel of their current 4,500 sf showroom. Coveted Award for "Best of Floor" is chosen each market by an independent panel of judges who look for stunning displays and bold visual merchandising designs. "Best of Floor" Award is given each year during January and July Atlanta Markets.
ZUO Décor division launch comes out of the company's continued growth and expansion of their lifestyle brand. Expanding on company's product selection and moto to offer trade clients a one stop shop destination for indoor & outdoor furniture, lighting, and décor products. The 1000 + new Décor product selection gives customers the finishing touches on their designs, while staying true to ZUO philosophy of designing affordable and fashionable products. ZUO Décor inspiration is created from the monitoring and analyzing global and emerging trends in furniture and fashion. Categories include; accent furniture, clocks, candle holders, desk accents, indoor planters, figurines & object d' art, mirrors, pillows, trays, wall art, and vases.
When interviewing ZUO's Visual Merchandising Director John Perez, he shared an inside look into the design and merchandising objectives. "Merchandising Décor is different that working with furniture and lighting products. The sheer attention to detail and care of each installation is more focused and tells an entire story. With each designed vignette, Andrea and I cultivated a theme for the different collections within ZUO Décor line. Our team also paired each motif to stunning Tempaper Wallcoverings to further express each collections lifestyle. This approach to design and merchandising was dual purpose; in that we intended to tell a visual story while also helping our retail customer with ideas with how to mix the many collections. To hear that our hard work and designs received an award is truly uplifting and exhilarating accomplishment. Having the award come to us on the debut collection is twice as rewarding. Our entire team thanks AmericasMart Market & judges on the highlighted our new Décor collection and showroom."
CEO Luis Ruesga commented during award ceremony "Andrea's knowledge and experience of the industry partnered with John Perez's brilliant merchandising techniques created a spectacular design. We're very proud of how the Decor debut was received and recognized. To be awarded the "Best of Floor" award on Andrea's first collection is outstanding. I can't wait to see what John and Andrea have in store for our Vegas Market Showroom at World Market Center."