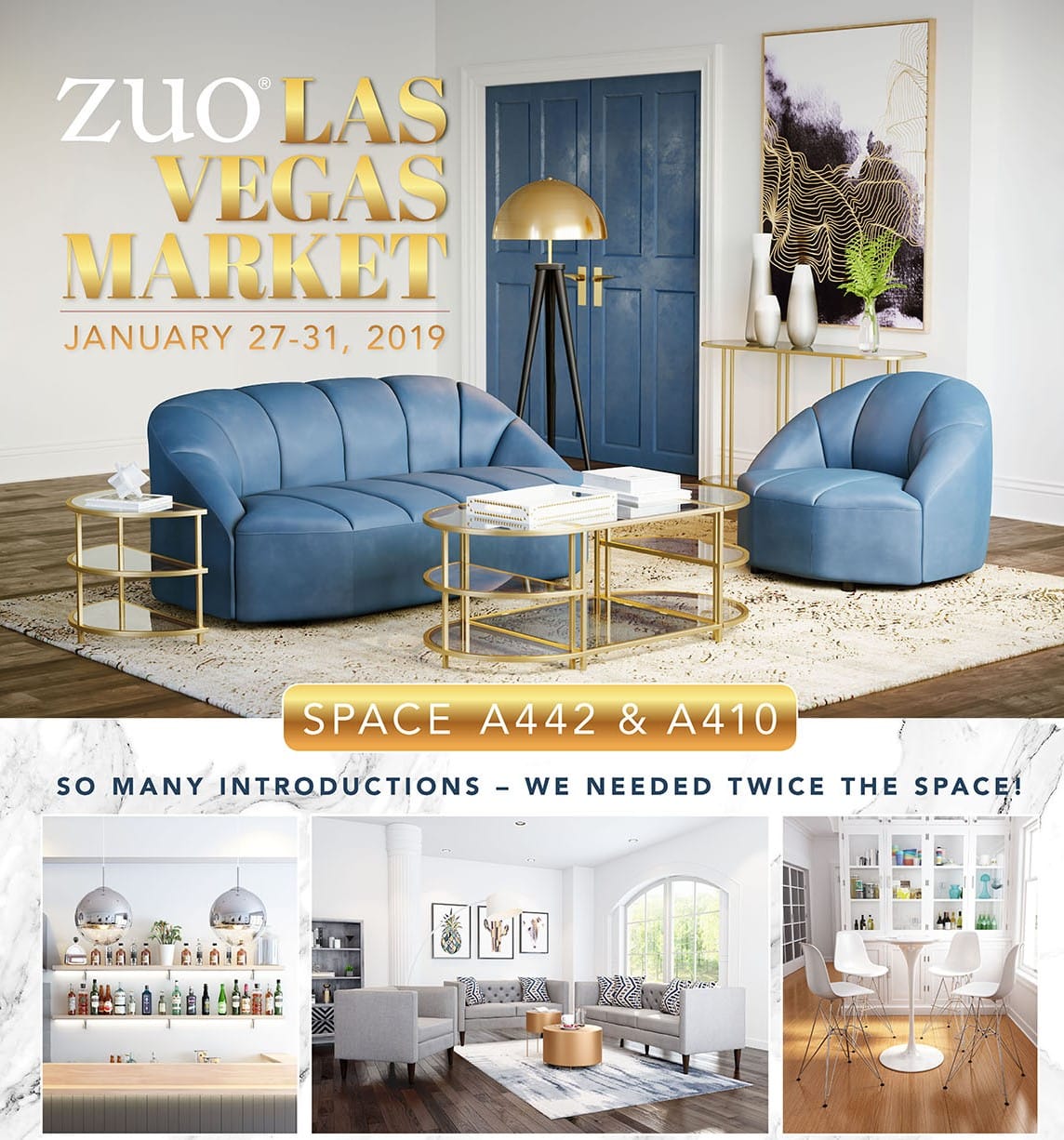 ZUO's Marketing Coordinator Serena Martin, has been working non-stop to precure partnerships, while developing events that entice and excite the savvy market attendee. Starting with hosting ASID Central / Nevada Chapters New Year's Kick Off Brunch on the first day of market Sunday, Jan 27 at 11 am A442. As a way to support the local chapter of ASID and celebrate 2019, we invite attendees to experience ZUO's youthful approach to markets, while providing fun showrooms filled with trendsetting designs, dance music and a fun buying atmosphere.

Sharing the concept behind 2019 marketing focusing, Serena Martin shared "in ZUO's marketing department, we work year-round to cultivate new relationships with brands and designers who are the top experts in their field. Creating unique marketing opportunities is just one way I am able to give back to our design community. From the 25 + annual events I produce for ZUO, to volunteering for the local ASID CA North Chapter, where I serve as Communications Director – I truly love what I do. From tradeshows, events and panel discussions I aim to help market and educate while working to uplift and support our industry."

Working with Head of Events and Partnerships, Reisa Elden from Ivy, the business management platform and community for designers, ZUO created an exclusive Designer Lounge in A442 for a place to connect with designers while learning more about the Ivy platform. ZUO and Ivy are offering designers a place to foster community and deepen business management skills, while enjoying coffee and small bites.

Las Vegas Winter Market – ZUO' Marketing & Event Schedule
ASID New Year Kick off – ZUO Designer Brunch
Jan 27th 11: 00 am – 12:00 pm
Bldg A, A442
With Special Guests, Kerrie Kelly, FASID & Guest Speaker Jamie Stringham, ASID including a ZUO Showroom tour and brunch bites, mimosas, coffee, or tea.

IVY Designer Lounge

Jan 27-29th 9:30 am - 5:30 pm
Bldg A, A442
Ivy Gurus will be available to teach first-hand how you can use Ivy to manage your billing, purchasing, and administrative tasks in one place. If you book an appointment in advance with Ivy here, you'll get access to special market pricing. Spots are filling up. Book a time today! To sign up click here: http://bit.ly/IvyxZUOLVMKT

Panel Discussion "Importance of Cultivating your e-Commerce Presence"

Jan 28th 11-12:30 pm
Bldg C, C174
ZUO & Lunge Marketing Present an educational panel discussion for anyone who is interested in navigating the online market. With an impressive list of panel experts from leading online brands, designers and ecommerce solutions our attendees will explore the unique art and science that goes into creating a successful online marketplace. From how a Designer creates and sells their services online, to how a retailer selects the manufactures they offer. Dive into exactly how manufactures design and cultivate products to establish their brand. Licensing and branding experts speak on how to create your own brand and tips to social influence while growing your own marketplace. (Followed by a post panel reception from 12:30 -2pm in A442).
RSVP: https://zuomod.com/2019LVMKT_Ecom
Moderated by:Stacey Tiveron,FounderRonati.com
Panel Experts:
- Ecom Brand:Liza HausmanVP, Industry Marketing,Houzz.com
- Branding Expert:Libby Langdon, Designer,Libby Langdon Interiors
- Manufacture:Kevin Baum, EVP, e-Commerce,ZUO
- Marketing + Ecom Solutions:Rachel Daunais, Ecommerce Acct. Executive,Lunge Marketing
- Ecom Brand:Jason Harris, FounderThe Design Network,
-B2B Agency and Software ProviderDan Caro,Senior Director of Product Management,Whereoware