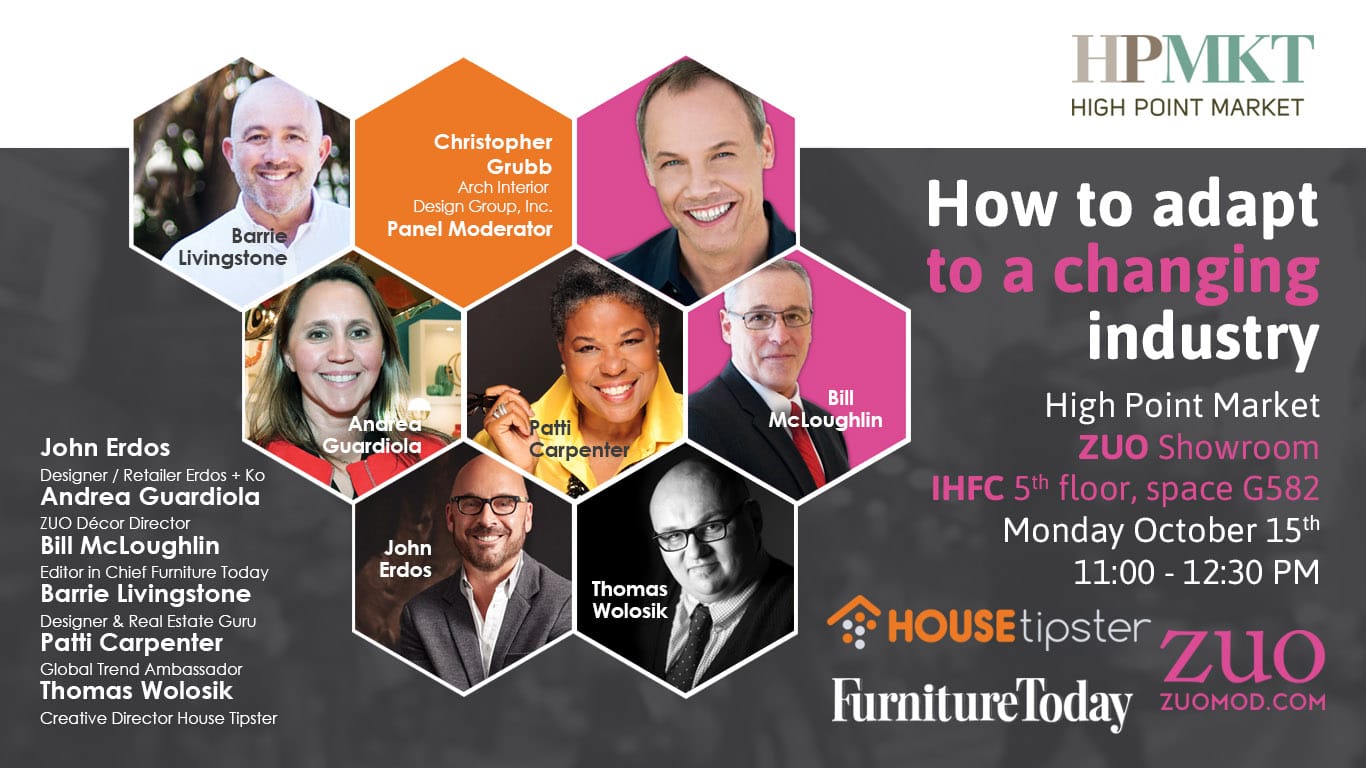 HIGH POINT MARKET EDITION - "How to Adapt to a Changing Industry"
"How to Adapt to a Changing Industry" panel topics will cover the State of the Industry and how to adapt, change and thrive in a growing furnishings market. Experienced panelists will deliver various points of view; including retail, product development, branding and licensing, trend forecasting, magazine publishing,and how technology is changing our industry.
Moderator: Christopher Grubb, Founder of Arch-Interiors Design Group Inc.
www.archinteriors.com|www.thecgcollection.com|www.christophergrubbdesign.com|www.christophergrubb.com@arch_interiors_design
Christopher Grubb has been called a style maker and expert design influencer by clients, editors, manufacturers and producers alike. Christopher is President of Beverly Hills based Arch-Interiors Design Group, Inc., which is internationally recognized for its creative and work in interior and exterior design specializing on high-end residential, commercial, medical, health & beauty, and retail design. Sharing his design skills and influence within multiple radio and television shows – including recurring appearances on LXTV/NBC and Martha Stewart Living Radio and hosts design segments For House Tipster of the design industry elite. Received dozens of awards Arch Interiors has been honored to be named the best interior design firm in California by Build Magazine, in addition to being featured in an entire issue of World Architecture Magazine in Hong Kong with over 70 pages exclusively covering the works of Arch-Interiors. In addition, Christopher was named one of the 50 Innovators in Kitchen and Bath Design in 2017. Celebrating 25 years in the industry, Christopher remains passionate and excited about working within the design field. Each of his clients speak to his brilliant designs, passion + dedication while working to create their one-of-a-kind environments that best complement each client's personal lifestyle and individual tastes.
Manufacturing & Product Development: Andrea Guardiola – Director ZUO Décor
www.zuomod.com/decor|decor@zuomod.com| @zuomod | @andy74LA
Andrea Guardiola's experience in home décor industry spans 20 + years with an admitted passion that started at an early age, growing into a devotion combined with a lifelong commitment. Opening her own furniture and home décor boutique in Argentina in 1994, with a contemporary aesthetic, she handled the sourcing, buying and visual merchandising in house. Over the next 2 decades Andrea's sourcing and designing within the Home Décor & Lighting Industry she began marketing her exclusive designs to the retail market within Argentina & Latin America; before moving on to developing products for ecommerce sites, international brands and Top 100 retailers. Andrea paired her knowledge and experience to landed jobs in direct sales and product development for established brands: Three Hands, Sagebrook Home and Nova Lighting; before joining ZUO. Launching their Décor Division in July 2017, Andrea brings her debut collection of intensely unique designs and celebrates over 3000 + home decor products in just the first year on the marketplace. She lives in Northern CA with her husband and daughter when she is not traveling for ZUO. To see her debut entire collection:https://zuomod.com/decor.
Trends: Patti Carpenter – Global Trend Ambassador,Principal + Creative Director
carpenter + company/Trendscope |@carpentercomp | @pattictrendscope
Patti, principal of carpenter + company and an award winning Creative Director to global sourcing for home furnishings brands. Accomplished in merchandising, product design and development, private label and branding; she has traveling and worked in 56 countries. Working with brands including Bloomingdales, Neiman Marcus, Crate & Barrel, The Phillips Collection, Donna Karan and Ralph Lauren. Patti's extensive knowledge and expertise on Trend Forecasting has included national speaking engagements, feature articles on Color + Trend & Design and is a trend consultant with Pantone. She also consults and is The Global Trend Ambassador for Maison Objet Americas & Paris.
Publishing: Editor-in-Chief ofBill McLoughlin – Editor in Chief ~Furniture Today
www.furnituretoday.com|bmccloughlin@furnituretoday.com| @FTBillmc | @billmcloughlin | @bill.mcloughlin
Bill McLoughlin is Editor in Chief of Furniture Today and has more than 25 years of experience as a business journalist covering retail and consumer products. Over that time he has covered disruption across myriad consumer products and retail segments and is now leading the Furniture Today team through a new age of media digitalization.
Designer: Barrie Livingstone ~Interior Designer & Real Estate Guru
www.barrielivingstone.com|barrie@barrielivingstone.com|@barrieinla
British born Barrie Livingstone is an accomplished Interior Designer and real estate agent atThe Agency- Malibu. Barrie's design projects scan the globe from Los Angeles to Dubai and Miami to Malaysia. His passion for buildings and how people occupy them on a global level is the driving force for him, pairing the right property with the right person or group. With over 30+ years of experience in the Residential and Hospitality Industries in both design and marketing, his clients gain vital insight on how to present properties in the best possible light. Both a designer and active realtor, you can read his first book,Interior Design Tips Every Realtor Should Know.
Design & Retail: John Erdos – Founder & Owner Erdos + Ko
www.erdosandko.com|john.erdos@erdosandko.com
Designing and selling furniture started as a hobby, but quickly grew into my life's passion. After a career at J.Crew that led me to the Far East, I established my namesake furniture design business in Singapore, where I became well-known for furniture made of solid, reclaimed teak wood. My furniture and accessories can be found in homes around the world, with celebrity clientele including Giorgio Armani, Julia Roberts, Helen Hunt and Susan Sarandon. Louis Koay and I co-founded Erdos + Ko in September 2017. Located in 3000 square foot showroom in the Dallas Market Center, we design and develop a substantial part of our collection. We also curate a selection of furniture, accessories, paintings and rugs.
Technology: Thomas WolosikHouse Tipster Creative Director
www.housetipster.com|thomas@housetipster.com| @Housetipster
A jack-of-all-trades, Thomas Wolosik, Creative Director at House Tipster, is just as comfortable discussing architecture as he is developing software, wowing investors, and advancing the home design technology industry. Since graduating from the Bialystok University of Technology in Poland with a Master's Degree in Architecture, Thomas has been busy finding success in numerous industries, including architecture, graphic design, 3D art, software development, and professional photography. But it was his work with famed architect Dr. Z. Peter Pininski and later with a visionary investor Richard Wojtach, as well as inspiration from the likes of Frank Gehry that powered what was to become Thomas's brainchild, House Tipster. Thomas' passion for design, mixed with his expertise in creative tools helped market this uniquely intuitive project. Today, House Tipster is a leading design platform with incredible 3D tools used by professionals and homeowners alike.
IHFC 5thFL - Space G582
DATE: Monday October 15th
TIME: 11:00 – 12:30 pm Panel Discussion