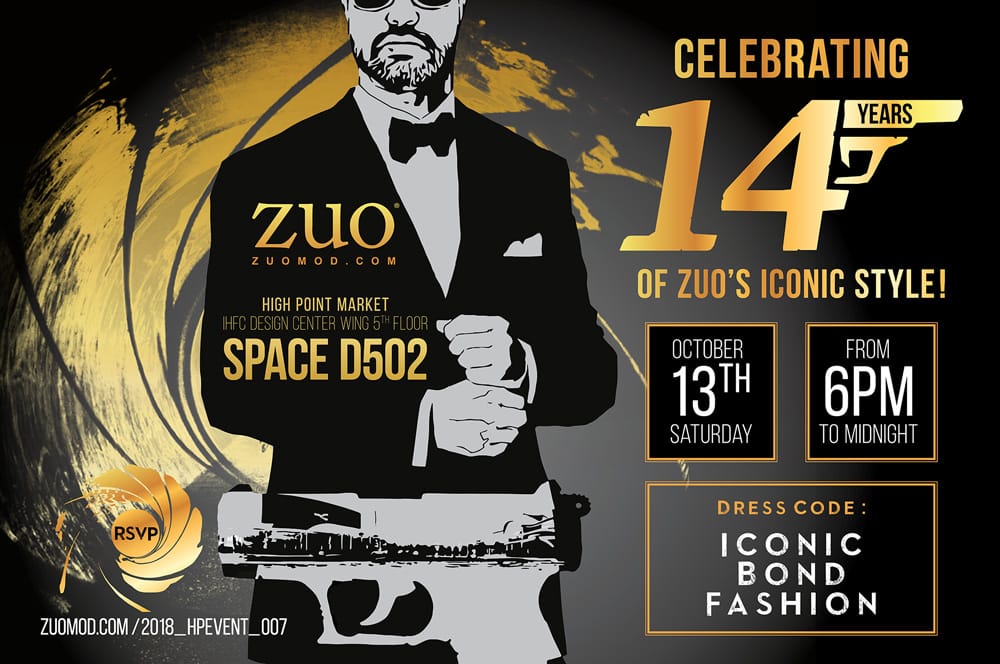 ZUO's Marketing & Visual Team has been working around the clock to create one unforgettable night, announcing a James Bond themed event for High Point Market's opening night Oct 13, 2018.
Each October Market from 6pm to midnight ZUO celebrates their brands 14TH anniversary exhibiting at High Point Market but giving back to the industry they love. This annual event invites long time customers, friends and family, plus fellow exhibitors and the esteemed media to RSVP to attend and visit their IHFC D502 showroom. Transforming the 26,000-sf space info a modern red-carpet fashion experience.
This year's Bond themed event is no exception to the list of events ZUO has produced over history at market and will feature international DJ's, a full bar, craft beers, catering + deserts. We can't missed mentioning the one of a kind aerial and acrobatic live performances created by Cirque de Vol, especially designed around each year's theme to delight attendees and indulge senses with the wildest Cirque style fantasies. Encouraging event guests to dress to impress with an offer to come in iconic bond fashion from any era. Many of ZUO's staff share they are planning on coming dressed as their favorite Bond villain for added amusement to create a truly unforgettable night.
ZUO's Visual Merchandising Director, John Perez commented "At ZUO we think of furniture as fashion, and we develop furnishings that deliver bold and brilliant designs. This year's Bond themed event embodies the sophisticated lux look of our 2018 Fall Collection – evoking a timeless blend of mid-century modern and iconic classic furniture. Our new collections for bar, dining and occasional deliver this same stunning fashion statement from the iconic Bond films - delivering impeccable style, elegance and savoir faire in gorgeous lush tropical colored velvets."